How did these Touch Screens work?
There are plenty of displays in markets LCD, LED and AMOLED and more and more. In these days people like touch screens more than the flat displays. what's the Touch Screen and how they created? How they exactly find where we touch in the display? Let's figure out.
How did these Touch Screens Works Really:
There are more than five types of Touchscreens are available but the most used two types are Resistive Displays and Capacitive displays. These displays served their jobs for more than a decade.
Resistive Display:
These displays made up on the copper and contain a thin gap between the conducting layers of the display. This thin gape filled with the spacers. When we touch the display that causes the minimum amount of pressure on the display that creates contact between the two conducting layers. The memory of the smartphone can able to detect the pressure and show you the appropriate response.
These displays are durable compare to others but containing more number of layer causes the reflection on the screen. Therefore, we may feel difficult in reading texts in these resistive displays.
Read more on Wikipedia
Capacitive Display:
Capacitive displays created by using copper or Indium. These displays created the same as the above. However, there are a limited number of layers that reduce the reflection on the screens. These displays are no more use the pressure method, In other words, they use the capacitive method to identify where you are touching. Capacitive display fully made up of tiny capacitors all over the display each one is even smaller than your hair.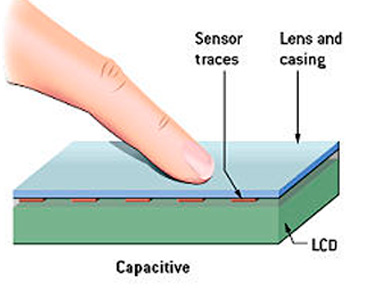 In the capacitive method, the display works when you touch with electrolysed material like our skin. When touching these tiny capacitors in the display causes the small voltage drop across the screen. This voltage drop identified by the controller and immediately respond to your touch.
Read more about Capacitive display: Electronic Design
The same way you can use the stylus pens in the capacitive screen. the electrolysed tip of the pen portrays itself as a minute finger in front of the controller. Hope you have learned about How these Touch Screens work?.
Read more from this blog:
Time Measurement - The History of Clocks